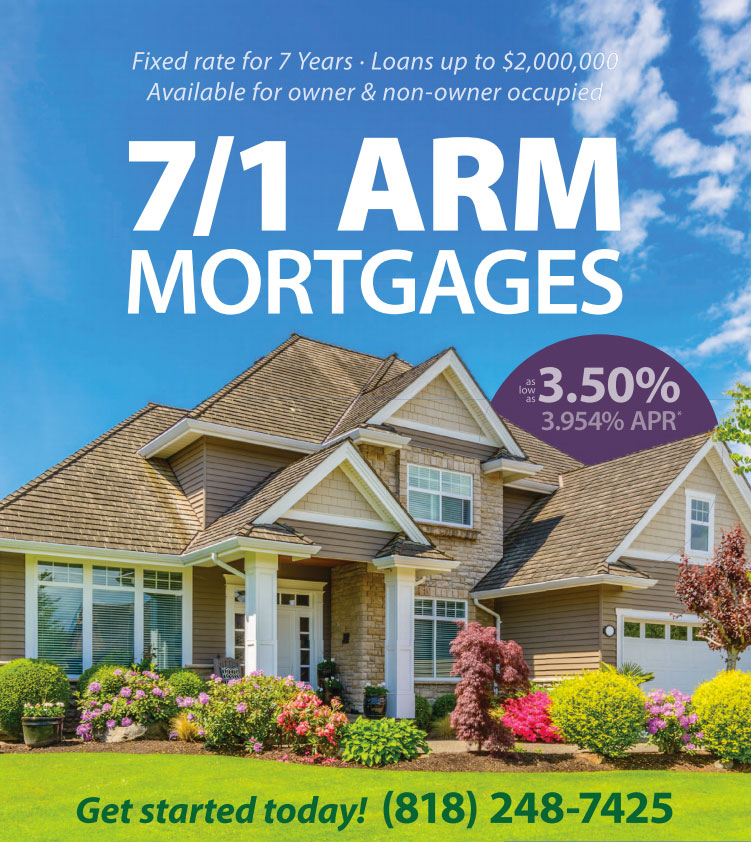 This loan is ideal if:
You want to maximize your buying power on your next purchase!
or
You plan to pay-off your home in 7 years!
or
You just want to take advantage our low rate!
The product features are as follows:

Initial Rate stays the same for the first 7 years
2% maximum adjustment per year
5% Lifetime adjustment cap
Loan balances up to $2,000,000 (rates slightly higher for Jumbo loans)
Non-Owner Occupied / Second Home – requires 0.50% Origination Point and slightly higher rate
Proof of income and full documentation required
Not interested in an adjustable loan? – Your credit union offers 10-30 year fixed rate loans at competitive rates. Since we believe in minimal fees, we often quote our mortgage rates with Zero Points and our modest $ 535 processing fee (along with third party costs).
We also have a full array of second mortgage products, from fixed rates seconds up to 15 years to our Home Equity Line of Credit (HELOC), that allow you to tap into the equity in your home.
As you can see, your credit union has many different options for mortgages. Let our mortgage loan expert walk you through home mortgage maze:
Yumiko Quintana
(818) 248-7428 ext. 155
MLS ID 580489
Still not convinced about our 7/1 ARM?
We are especially excited about our current offering – our 7/1 ARM product. We saw the interest rates on mortgages climb and created a product to continue making home loans affordable. We have currently set the rate at 3.50% at Zero points for an attractive APR of 3.594%. The reason our APR is so attractive is that we use the 11th District Cost of Funds Index (11th District COFI – pronounced 'coffee'). This index is slow moving and is consumer friendly. Currently, if the index rate were to be the same as it is today seven years from now during the adjustment period, your interest rate would be the same; the current margin plus the 11th District COFI would be lower than the start rate, so the rate on your mortgage (and payment) would remain unchanged. Obviously, this condition is likely to be different seven years from now, but when you compare our rate change structure to other 7/1 ARM products out there in the market currently, you will see our competitors' APRs are significantly higher over the life of the loan than our APR. That is why we are very comfortable offering this product to all members.
Mortgage rates are valid as of March 1, 2018 and are subject to change without notice. Advertised APR is based on a set of loan assumptions that include a borrower with excellent credit (700 credit score or higher); your actual APR may differ depending on your credit history and loan characteristics. Accuracy is not guaranteed and products may not be available for your situation. ARM interest rates and payments are subject to increase after the initial fixed-rate period (7 years for a 7/1 ARM). Terms and conditions apply. See other parts of this website for other important disclosures. MLS ID 536925